Colorado Heart Healthy Solutions (CHHS) is a statewide program that aims to reduce the burden of cardiovascular disease and diabetes. CHHS involves a network of community health workers (CHWs) who reach out to individuals in their communities and provide health assessments, health education, coaching, referrals to local medical and healthy living resources, and ongoing support to at-risk individuals at no cost. Since 2008, CHHS has served over 40,000 Coloradans and has seen significant improvements in health outcomes. These results are published in the American Journal of Public Health and highlighted in the Center for Disease Control and Prevention's Science in Brief.
Healthy People 2020 – Stories From The Field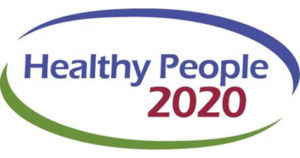 "Throughout the years, CHHS has observed positive changes in the biometric health markers and health behaviors of program participants. Much of the program's success can be attributed to the focus on partnering with local agencies to implement CHHS-related efforts in their communities. Additionally, the use of the OSCAR system has been integral to the program's success. Not only has OSCAR allowed CPC Community Health to collect important data to show the effectiveness of the intervention, but it has served as a decision support tool for CHWs in the field and allowed for the monitoring of risk factor changes among program participants."
CHHS program staff is made up of a team of physicians, researchers, and public health professionals from CPC Community Health. To learn more about the program staff, click here. The staff is responsible for providing CHHS with:
Community health worker logistical and educational support

Healthy living, health care access and provider educational resources

Promotion, advocacy & fundraising activities

Evaluation expertise

Project management of CHW work and overal integrity of the CHHS program
Community Health Workers (CHWs) are community members who:
Provide outreach, health screenings, culturally-appropriate health education, referrals, follow up, case management and advocacy to individuals in their communities who are at-risk for heart disease

Strengthen community networks by serving as a bridge between local health care providers, social services, community resources and at-risk individuals within the community

Live in the community in which they work, understand the culture of the community and often share life experiences with the community members they serve
Outreach, Screening and Referral (OSCAR) system is a software solution that helps the CHWs collect participant data, generate evidence-based health recommendations, provide counseling and referrals specific to their community, assess readiness for change, define health goals, and conduct participant follow-up sessions and retests. For more information on the OSCAR system, click here.
CHHS Framework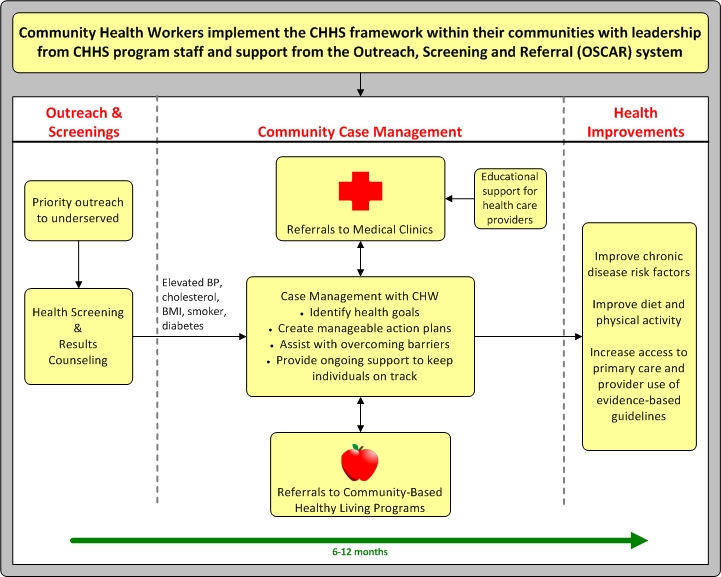 CHHS focuses on reaching underserved populations. Underserved populations are defined as people who face disadvantages because of social, economic and/or geographic factors. People who are included in our definition of underserved are ethnic minorities, the poor, those with less education, un- or under-insured and those who live far from resources in rural and frontier communities. CHWs reach out to individuals in venues such as big box stores, community centers, clinics, and work sites where they are likely to engage with underserved populations.
At no cost to participants, CHWs measure and collect cholesterol and glucose levels, blood pressure, body mass index, medical history, and dietary and exercise behaviors. A comprehensive health assessment is generated by the OSCAR system and includes a 10-year risk of developing heart attack or stroke and health recommendations to be reviewed with the participant. That personalized health assessment is then printed out and given to the participant or sent to the participant's medical provider.
Community Navigation
For at-risk individuals looking for ways to improve their health, the CHWs provide
Health education and apply motivational interviewing skills to help at-risk individuals create action steps to achieve their health goals.

Referrals to local medical clinics and healthy living resources such as walking clubs, diabetes management classes, nutrition programs and exercise facilities and classes.

Ongoing support through regular follow-up calls to at-risk individuals.
CHHS also supports health care providers within our CHHS communities in two ways: monthly emails which include short case studies informed by evidence-based guidelines are sent to participating providers, and onsite continuing education is delivered to local providers by our cardiologist at no cost.
Repeat Health Assessment
To demonstrate health improvements, CHWs retest at-risk individuals between 3- and 12-months.
Our goal is to improve the heart health of Coloradans by:
Improving chronic disease risk factors such as cholesterol, glucose, blood pressure and weight

Improving diet and physical activity levels

Increasing access to care and provider use of current evidence-based guidelines
Our results are published in the American Journal of Public Health and highlighted in the Center for Disease Control and Prevention's Science in Brief.