CPC Community Health conducts ongoing evaluation of CHARLAR using a community-based participatory approach. To ensure the program meets the specific needs of older adult Latinos living in Denver, input is sought from an established community advisory committee and program partners in each phase of the program including design, implementation, evaluation and dissemination. In addition, all findings are shared with the community as we strive to improve the health of older adults. Take a look below at our wonderful community advisory committee members!
Mary L. Diane Medina, CAC Facilitator
Diane is a native to Denver has lived in the same neighborhood for over 50 years.
She attended local public and private schools and finished her education at the University of Colorado at Denver with a degree in Psychology.
Fortunately, Diane has a history of community involvement since the age of 12 and was supported by her parents and local community activists.  Over the years she has championed many causes that strongly impact her community.
She was invited to listen to a presentation about the CHARLAR project for Latinos at risk for heart disease in 2009 and immediately became a member of the advisory committee. She continues to her involvement by working collectively with the CHARLAR community advisory committee, CPC, CREA Results, and over 30 local community and faith based organization to help guide the CHARLAR project to become a premier health education program for Latinos in Denver.
Charles Tafoya
Chuck was born in Colorado Springs, Colorado.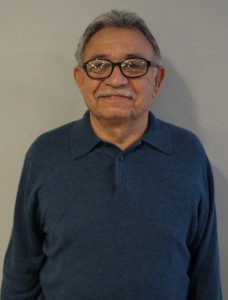 His dad passed away when he was 8 after which he moved to Espanola, New Mexico for three years, then to Chicago and to Los Angeles, California. By the time he was in middle school he had attended twenty different schools. He graduated from Mitchell High School in 1968 by which he was already involved in the Free Speech movement and attending anti-war rallies. That fall he began school at Colorado State University and continued his activism as a member of the United Mexican American Students (UMSA). In 1969, he met Cesar Chavez and began supporting the United Farmworkers who were leading a nationwide boycott of grapes to gain the right to form a union in the fields and orchards in California, Arizona and Colorado. During these tumultuous years, his activism led to his arrest, detaining, tear gassing, and investigation by the FBI. He started working for the Colorado Migrant Council in 1972, working with farmworkers throughout Colorado. He enrolled in the University of Denver's MBA program. After he graduated from DU, he moved to Los Angeles and became the director of Development for National SER/Jobs Progress Inc, a nation-wide network of workforce centers. He spent a great deal of time in Washington DC obtaining funds and testifying in Congress. He returned to Colorado in 1980 and founded Rocky Mountain SER where he was the Executive Director for 27 years. Rocky Mountain SER eventually became the second largest non-profit in the state with $25 million in annual funding, 500 employees, and $100 million dollars in net worth. He retired in 2007 and continued to work in the community for social justice, leading him to CHARLAR, where he joined the Community Advisory Committee in 2013.
Margie Melendez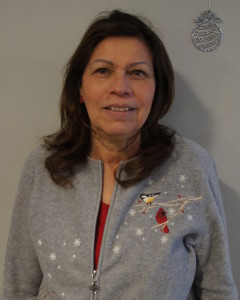 Margie was born in El Paso, Texas and has lived in Denver for more than 30 years. Previously, Margie worked for 10-years for a community-based non-profit that provided mental health services. She is now retired. In her free time, Margie loves working with plants and flowers. She travels often to Dallas, Texas to help her daughter with her chiropractic practice.
Margie was in the second group of CHARLAR participants. She likes to help with screenings where she can see most of those participating in the class. She also likes attending the graduation because people share all the good things CHARLAR taught them and she gets to hear how the program helped their families with their diets. Margie believes CHARLAR teaches very informant information leading to better health results.
Maria Eleana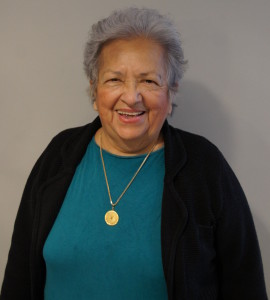 Originally from Torreón, México, Maria Elena has lived in Denver for 51 years. In 1964, just three days before Maria Elena was to be married, her mother passed away after entering diabetic coma. Her mom had never known she was diabetic and left behind 14 children. The following year, Maria Elena became sick and eventually had to receive surgery. Through this experience, she and her doctors learned that she too had diabetes. At this time, there were no programs such as CHARLAR to help support patients and communities with diabetes prevention and management. Without proper patient education and support, Maria Elena managed her sugar inconsistently. She would have known how to properly manage her diabetes had she received the proper education and support. It wasn't until she completed the CHARLAR program that she learned the proper ways to manager her diabetes. She is now dedicated to helping others so that what happened to her doesn't happen to anyone else.
Through her work and volunteerism at local churches and clinics, Maria Elena has extensive knowledge of Denver's Latino communities. She was an integral part of the planning of CHARLAR in its early stages, and continues to recruit participants as well as build and maintain relationships with CHARLAR's community-based partners. Thanks to CHARLAR, Maria Elena is successfully managing her diabetes every day. According to her, there is nothing better than CHARLAR.
Martin Jacinto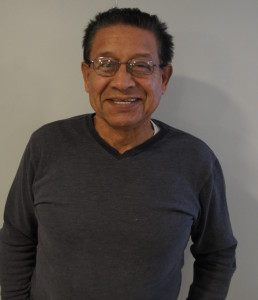 Martin was born and raised in West Denver. He was involved in the Chicano Movement with the Crusade for Justice and participated in the Poor Peoples March of 1968. Martin was drafted into the US Army in December of 1968 and was deployed to South Vietnam as a Rifle Infantryman. He was honorably discharged in 1974 after which he worked for the City and County of Denver until he retired. He is very interested in his own health which led to him becoming involved with the CHARLAR classes. He joined the CAC after he graduated from the CHARLAR program. He likes discussing all of CHARLAR happenings and helping out with the pre- and post- health screenings where he provides assistance with set-up and tear-down. He enjoys the camaraderie he has with the other members of the CAC and with the CHARLAR participants. He values putting in time doing something useful and leading a life that matters to him and others.